Sustainable Design Assessment (SDA)
The who, what, why….
What is it?
A Sustainable Design Assessment is a report that is based on the Built Environment Sustainability Scorecard (BESS) and aims to assist councils and developers achieve sustainable developments in developments. There are currently 35 councils in Victoria that utilise the scorecard. The following 9 sections are required to show various levels of compliance to pass. The sections include:
Management
Water
Energy
Stormwater
Indoor Air Quality
Transport
Waster
Urban Ecology
Innovation
Depending on the proposed development, there will be different criteria to satisfy each section. For example, an apartment building will have different requirements to meet than a commercial office building.
On top of the BESS scorecard, preliminary thermal modelling (either energy rating reports or section J calculations) and STORM treatment calculations will also be provided.
Why is it needed?
A Sustainable Design Assessment is a report requested by councils that utilise an ESD policy. Depending on the council, they will be triggered for once 2 or 3 dwellings are proposed. Some inner city councils will require them for single dwellings also that trigger a planning permit.
As we build more buildings in tighter spaces, councils want to ensure that we are reducing our carbon footprint and building more sustainably. Some of the key takeaways with councils ESD policy wording is:
Reduction of costs over the life of the building
Improved affordability over the longer term through reduced running costs
Improved amenity and livability
More environmentally sustainable urban form and
Integrated water management
Using a train BESS professional
While it is not an overly complicated scorecard system to use, using a trained BESS professional will ensure best practice initiatives are selected for each section. There are many councils that all have their preferred sustainable initiatives they want implemented and at different levels of compliance.
A BESS trained professional will also know how to prepare the STORM calculations correctly, per the specific council requirements and prepare preliminary thermal modelling. Issues can arise and be sorted in the design and planning stage to avoid expensive building costs later.
How do we prepare Sustainable Design Assessment
As mentioned, the Sustainable Design Assessment information is based on the BESS Scorecards 9 criteria.
1. Management
Points are awarded for providing
Attending council meeting as an ESD consultant
Preliminary thermal modelling
Independent energy and watering metering &
A building user guide.
It is very important to ensure the consultant who prepares your Sustainable Design Assessment conducts preliminary thermal modelling, especially energy ratings for townhouses and apartment buildings.
2. Water
Points are awarded for providing

Water tanks
Energy efficiency water fixtures
Efficient landscaping
The water tanks are essential for new developments and they serve two purposes.
They assist with water reuse: When the land is originally developed and subdivided, the underground assets are usually calculated with the intention of building 1 dwelling per site. As time goes by, old homes are demolished, and multiple dwellings are built on each site, we put strain on the existing main water supply. Rain water tanks help with the supply of water to toilet flushing, watering your garden and laundry washing.
They act as a detention system: Heavy rain falls can often be difficult for underground water systems to cope with, especially when you add dwellings. More dwellings means more rain water connected and more downpipes sending water back underground. Rainwater tanks collect and hold this water for reuse and only send it back to the legal point of discharge once the water reaches the overflow pipe.
You will need to achieve a minimum 50% to pass the Water section of the BESS scorecard.
3. Energy
Points are awarded for providing
Preliminary thermal modelling results
Solar panels
Efficient appliances
Reduced artificial lighting reliance
As per the management section that acknowledges preliminary thermal modelling will be conducted, here in the energy section is where the results are inputted. Achieving a higher star rating will improve the energy section results.
We have been able to offer cost saving advice on dwellings that did not initially perform well. If these were not picked up in the design stage, the developer would have been up for very expensive windows once the building permit energy ratings were prepared. It is too late then to make changes to the design and possibly have to advertise to the council. Whoever prepares your Sustainable Design Assessment, please ensure that preliminary energy ratings are conducted and request the window values.
You will need to achieve a minimum 50% to pass the Energy section of the BESS scorecard.
4. Stormwater
Points are awarded for providing
A STORM calculation of 100% or more.
Melbourne Water has developed the STORM (Stormwater Treatment Objective – Relative Measure) calculator to assess how stormwater is collected and treated before entering back to the underground pipes. The main treatments types we nominate to demonstrate compliance are
Rainwater tanks
Rain gardens
Buffer strips
Permeable paving
What we nominate depends on the council and their preferred treatment types. Some councils will not allow rain gardens to dwellings and some will not allow them for common space etc. We do a few hundred STORM scorecards a year so we know what each council prefers to ensure it gets passed the first time round.
You will need to achieve a minimum 100% to pass the Stormwater section of the BESS scorecard.
5. Indoor Air Quality (IEQ)
Points are awarded for providing
Double glazing to all habitable rooms
Open windows that allow for cross ventilation
Design at least 50% of the dwellings to have north facing living
Good daylight access
Appropriate shading devices depending on orientation
This section is more to ensure the building designer or architect has designed to utilise good passive design principles and that good natural lights and comfort is achieved for the occupants using the building.
You will need to achieve a minimum 50% to pass the Indoor Air Quality section of the BESS scorecard.
6. Transport
Points are awarded for providing
A bike rack for each dwelling and a visitor bike rack for each group of 5 dwellings.
Showers for bike riders (Commercial developments)
EV charging stations
Car share scheme
Parking spaces for motorbikes and mopeds
The architect or building designer will need to ensure that enough space has been allocated for bikes for residential developments and alternative transport options for commercial developments. We will also provide the council with both a walk score and basic transit information for the development.
There is no minimum pass mark to achieve compliance for Transport, however, the results go towards obtaining the minimum 50% BESS scorecard to meet BESS best practice compliance.
7. Waste
Points are awarded for providing
Recycled building material for demolished building works.
Appropriate rood and garden waste management
Convenient recycling management
If there is an opportunity to recycle building waste, the council will want it documented.
There is no minimum pass mark to achieve compliance for Waste, however, the results go towards obtaining the minimum 50% BESS scorecard to meet BESS best practice compliance.
8. Urban Ecology
Points are awarded for providing
Large areas of vegetation
Green roofs
Green walls
Taps to balconies
Dedicated food production areas
The more green, the more points. Ensure that the development has at least 35% of vegetation area allocated.
There is no minimum pass mark to achieve compliance for Urban Ecology, however, the results go towards obtaining the minimum 50% BESS scorecard to meet BESS best practice compliance.
9. Innovation
Points are awarded for providing
Innovation technology or initiatives not included within BESS.
Generally we reserve these points for large development projects. We will need to achieve 50% before we can start claiming innovation points. As some developments require higher scores than 50% to satisfy council ESD requirements, we can use these initiatives to earn additional points not currently found within the BESS scorecard.
What we need from you
To prepare a Sustainable Design Assessment, we will town planning drawings with the following information:
Site Plan with neighbouring information
Floor plan with 1 overall dimension
Elevations with cladding details and window opening style
Site analysis areas
Any council request for further information letter or planning permit will also be helpful.
What's involved with the analysis?
The three main modelling components we need to conduct are
The BESS scorecard
The STORM scorecard
Preliminary thermal modelling
Preliminary energy ratings or
Preliminary section J insulation and glazing modelling
How can we improve the results
It's good to note that even though the scorecard is out of 100, the minimum required to pass the scorecard is 50% and the best practice range is 50-70%. Most projects we prepare BESS scorecards to achieve an overall result of 50%-55%. If we are preparing a BESS against a multilevel mixed use development, which features both apartments and commercial space, the council will want to see a high BESS score, possibly over 60%. Anything over 70% is considered 'Excellence".
Every council has their preferred score range and sustainable initiatives implemented, and this is also dependent on the size and what is being proposed.
How high we will push the BESS scorecard will also be dependent on what area it is, the potential resales/market acceptance and the project allowance for sustainability initiatives.
So when is the best time to do a Sustainable Design Assessment?
This really depends on the council. Some require an SDA with the initial submission, some will request during the RFI stage and some will request once a planning permit is granted.
It doesn't matter when council requires it though, as your building design or architect should allow for the provisions of the sustainable initiatives required to meet council ESD requirements.
For example, townhouses should be designed:
To allow for north facing living areas
To have rainwater tanks installed
To have bike racks installed
Among the many other things required for BESS compliance. Not allowing for these early on may result in redesigning later on to accommodate.
Regardless of when the council requests an SDA It is also best practice to prepare preliminary energy rating reports as soon as the designs and elevations have been sketched. It will be very important to know how each dwelling performs from an energy rating perspective, and what improvements can be made so that the glazing quote does not become ridiculously expensive.
WHAT YOU GET
Detailed Specifications for each BESS section
BESS Scorecard modelling
STORM Scorecard modelling
Preliminary energy rating (For Residential)
Preliminary section J insulation and glazing (For Commercial)
Walkscore information
PDF documents for STORM treatment types
ESD notes for your planning drawings.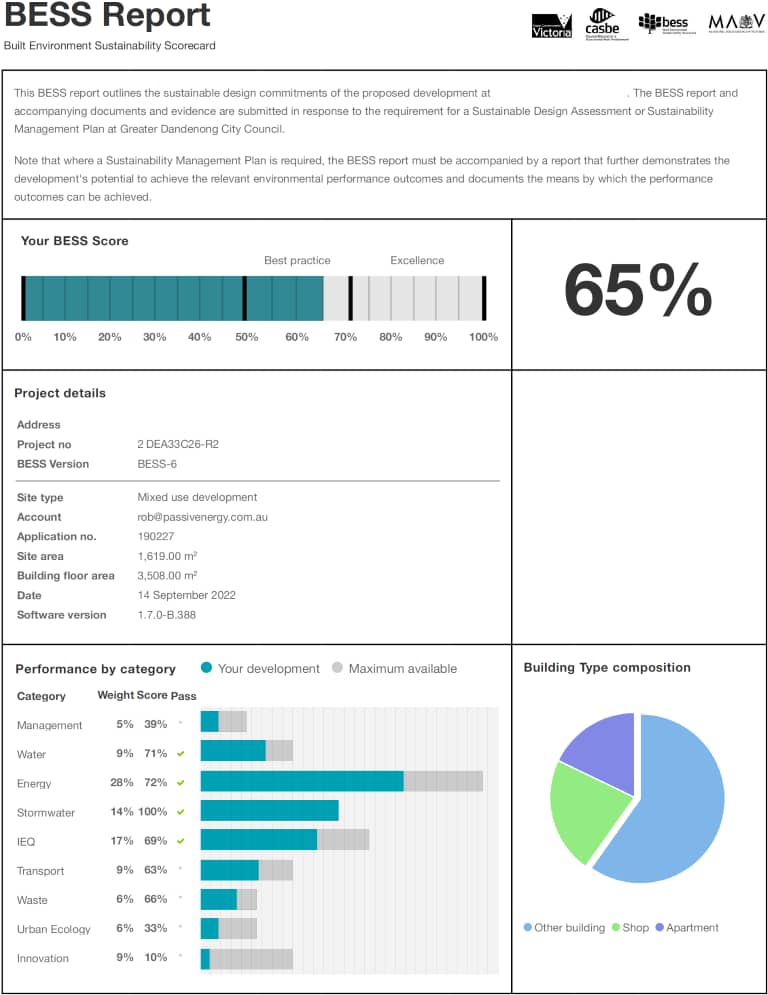 Efficient, cost effective sustainability (ESD) reports for building and planning permits.