7 Star Energy Rating Report
Our National House Energy Rating System (NatHERS) in Australia is based on a 10-star rating system. All states will soon be adopting a minimum 7-star energy rating system that will need to be achieved to obtain a building permit.
It is common to have an energy rating report completed for your new dwelling or extension once the working drawings are complete.
While this ensures that all details are finalized, it will mean that any problems in the energy rating will be rectified only by 'adding on' extras. There will be instances where insulation will be maxed out and expensive high-performing windows nominate and the design will not achieve 7 stars
There are two vital components to consider when designing to a 7-star energy rating standard – climate data and site conditions. Relevant energy rating software will provide localised climate data to ensure corresponding design principles are met. For example, if a particular suburb or region registers a hot climate, design will favour shading.
The site conditions identify orientation of a property, which will play a role in design layout. include where north orientation is and how a design layout factors that in. You may, for example, need to consider neighbouring dwellings and the impact on shading and cooling your home.
It is important to organise an energy rating during the design stage, which will identify whether a design can achieve a 7 star energy rating result. Waiting until the construction drawings is too late and could result in a non compliant design or very expensive insulation and glazing upgrades to meet 7 star energy rating compliance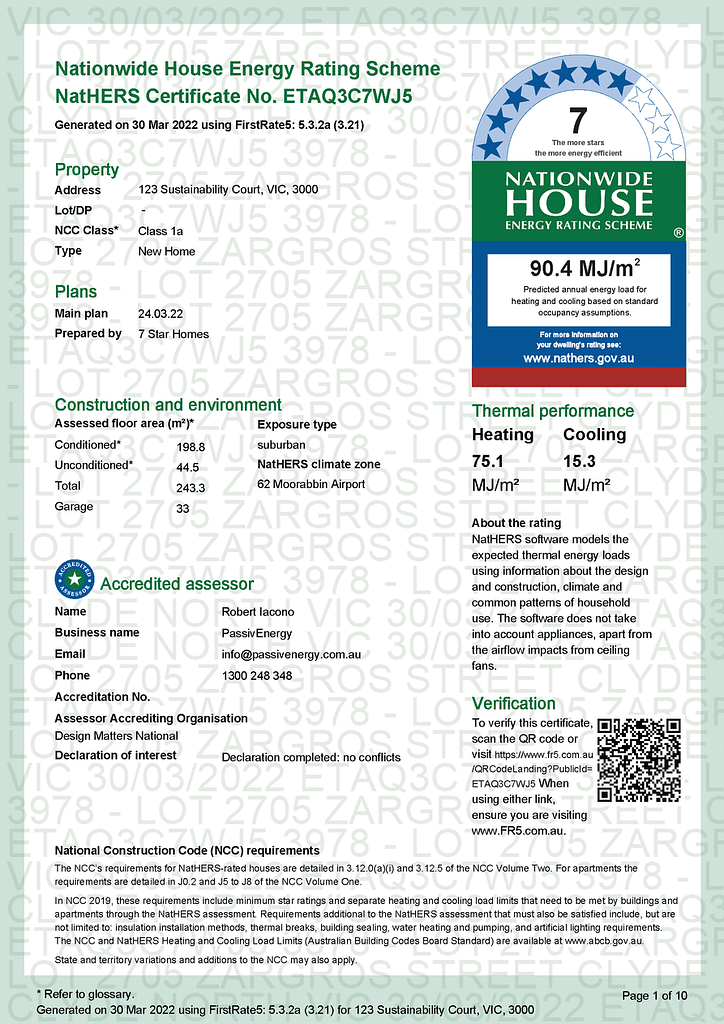 How we help
Engaging a PassivEnergy consultant during the design stage will enable us to run several preliminary energy ratings that will give us a room-by-room analysis of all the heating and cooling loads.
From here, we can work out where the weak points are and offer a range of solutions that will help improve the thermal comfort of your new home or extension that eliminates the hassles and expenses from design errors.
Suppose you have ever thought about living in a home that was not only comfortable to live in all year round but also saved you money in heating and cooling bills. This is a good saving strategy, given the overall running of your house continues to increase.
Please visit: https://abcb.gov.au/ncc-2022-state-and-territory-adoption-dates for updates transistion periods for each state and territory.
Our read more from our blog: https://passivenergy.com.au/energy-rating/part-one-of-three-what-the-heck-is-an-energy-rating/
Efficient, cost effective sustainability (ESD) reports for building and planning permits.